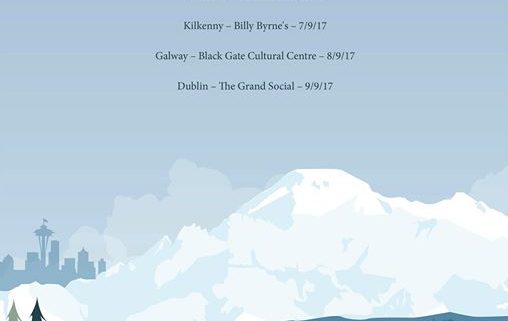 **TOUR DATES**
05/09/17 – Crane Lane, Cork
06/09/17 – Central Arts, Waterford
07/09/17 – Billy Byrne's, Kilkenny
08/09/17 – Black Gate Cultural Centre, Galway
09/09/17 – The Grand Social, Dublin (Supported by Improvised Music Company)
Umbra are hitting the road this September to launch their debut album, 'West'. 'West' features music inspired by Chris Guilfoyle's solo trip along the west coast of America and Canada in 2015. The compositions try to evoke the various emotions Chris was going through while taking this trip, from joy and excitement to loneliness and fear.
Looking forward to seeing you out there!
'Arguably one of the most exciting jazz ensembles in Europe'
'A vibrant set of original tunes… thrilling back-and-forth between the two saxophonists—but even in the midst of the most exuberant solos a pronounced sense of collective groove held sway.' – All About Jazz
Umbra is one of the most exciting and innovative bands in the Irish Jazz scene. Comprised of some of the most promising musicians in Dublin, Umbra's modus operandi is high energy, thought provoking performance with an emphasis on intricate compositions.
Led by guitarist and composer Chris Guilfoyle, Umbra is his vehicle to showcase his unique take on contemporary jazz. The music is a blend of harmonic and melodic sophistication reminiscent of artists like John Hollenbeck and Jim Mcneely, cyclical grooves evoking comparisons with IDM and math metal, all played with the energy of a punk rock band.
Each member's individual strengths are showcased in the compositions while at the same time blending masterfully into a cohesive and recognisable group sound. Drummer Matt Jacobson and bassist Barry Donohue lay down wonderfully elastic grooves, while the contrasting horns of soprano Chris Engel and tenor Sam Comerford make the most of the explosive front line in the company of Chris Guilfoyle's intricate guitar playing.
http://www.billybyrnes.com/wp-content/uploads/2017/08/926_image_20933982_1812074645745338_2748201246552207008_o.jpg
720
508
http://www.billybyrnes.com/wp-content/uploads/2017/05/main-logo.png
2017-09-05 17:37:01
2017-09-05 17:37:01
West - Album Launch Tour