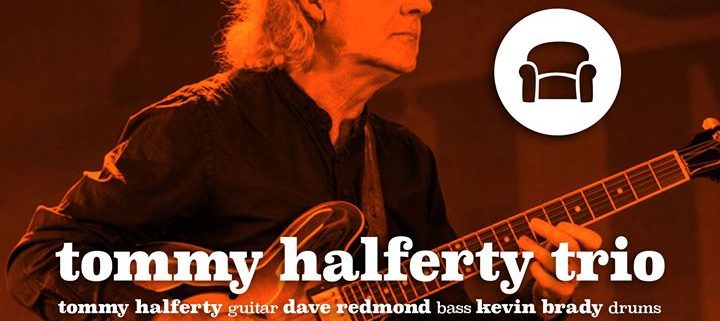 The Sofa Sessions presents
Tommy Halferty Trio
album launch
Tommy Halferty guitar
Dave Redmond bass
Kevin Brady drums
9pm / No Cover Charge
The Tommy Halferty Trio, one of Ireland's leading jazz group's, have just released their latest studio album 'Station Midi' and copies of the new album will be available on the night. Be the first to hear these exciting new original compositions from a legend of Irish jazz.
Originally hailing from Derry city, Tommy Halferty is a national treasure, one of Ireland's greatest guitarists who has performed nationally and internationally for over 30 years. His powerful trio features the peerless rhythm sections of bassist Dave Redmond and drummer Kevin Brady.
Don't miss this chance to hear one of the most exciting sounds in Irish music, live and in person, and get a copy of their brilliant new album signed on the night.
About Tommy Halferty
Tommy began his musical career in the late 70s taking Jazz Guitar lessons with Louis Stewart, a world class jazz musician. Some of his earliest appearances playing public were with bands such as `Jump' – a jazz fusion group and later on `Nunn' – a trio of flute, double bass and guitar. Most of the material here was drawn from classical, folk and jazz music.
In the early '80s Tommy Halferty formed a trio consisting of guitar, bass guitar, and drums producing fresh sounds, original compositions, and with John Wadham (drums), Ronan Guilfoyle (bass) the trio proved to be a well integrated ensemble and one of the most successful groups in Ireland during this period.
In '84, Tommy had the opportunity to play with the great Czech double bass player, George Mraz, as part of the `Jazz Fusion 84′. Later Tommy recorded with George for the R.T.E. Radio show, "All that Jazz and Blues". The next years Tommy played in Portugal in `Hot Clube' with Portuguese musicians and at the famous Cascais Jazz Festival with English sax player Art Themen. The following year, he gave jazz workshops at the Cork Jazz Festival, playing also with the great American alto sax player, Lee Konitz, and later with the great French pianist, Martial Solal.
In Dublin Jazz Festival '89, Tommy performed duos with the great American guitarist, John Abercrombie. Followed by duos by the English guitarist, John Etheridge, who worked with `Soft Machine' and the great French violinist Stephane Grapelli, at the Cork Jazz Festival '90.
In '91, Tommy was commissioned to write `O Connell Street' for R.T.E's musical celebration of Dublin as Cultural Capital of Europe. Tommy played in Barcelona, Spain, with the great Portuguese bass player, Ze' Eduardo, in February of that year. The following summer he began the Irish French Connection in France with Jean-Philippe Lavergne (Hammond organ) and Christophe Lavergne (drums) and played at the Jazz Festival in Parthenay in '92.
In '93 Tommy toured Ireland with the jazz singer Norma Winstone culminating in the Cork Jazz Festival. About this time, Tommy began to form a group combining traditional music and jazz using Tommy Hayes (Bodhrán) and Ronan Brown (Uilleann pipes), appearing on T.V. in Germany and Ireland. However, a distillation of many styles of music – Indian, Flamenco, Arabic and Irish took shape in `Khanda' – a new group with Ramesh Shotham from India, Conor and Ronan Guilfoyle, Martin Nolan (Pipes) and Ellen Cranitch (Flute) from Ireland.
Tommy has played as part of a guitar duo (with Mike Nielsen) in the Tel-Aviv International Guitar Festival '94. They were voted Critic's Choice in `The Jerusalem Post' of that year. A special honour was given to Tommy when he was asked to play for President Clinton when he visited Ireland in November '96.
Tommy was also a member of the Keith Copeland Trio. They have recorded two CD's for the famous Steeplechase Label in '96 and '97.
As part of L'Imaginaire Irlandais in April '96 Tommy travelled to France to play concerts in Nantes, Morlaix and Tréguier.
Tommy is a faculty member of the International Jazz Summer School at the University of Ulster, since its inception in 1992. Tommy teaches Jazz improvisation in New Park Music Centre, and has been instrumental in getting Jazz music in the current Leaving Certificate Music course.
Tommy is currently teaching English Literature and Music in Coolmine Community School. He is considered one of the first Irish jazz musician to export a distinctly indigenous style to a more worldwide setting
"New Encyclopaedia of Ireland – He has travelled the world and played with Lee Konitz, Benny Golson, Ronnie Cuber, George Mraz, Dave Liebman, Martial Solal. He has been guest lecturer at the famous Berklee College of music Boston. At present he is teaching the Degree in Jazz Performance (BAJP) at Newpark Music Centre.Tommy was presented with the "Best Irish performer" award at the Derry City Jazz Festival 2004."
http://www.billybyrnes.com/wp-content/uploads/2017/11/1134_image_23736322_515775058788771_820521654766998777_o.jpg
405
720
http://www.billybyrnes.com/wp-content/uploads/2017/05/main-logo.png
2017-12-07 17:52:45
2017-12-07 17:52:45
Tommy Halferty Trio