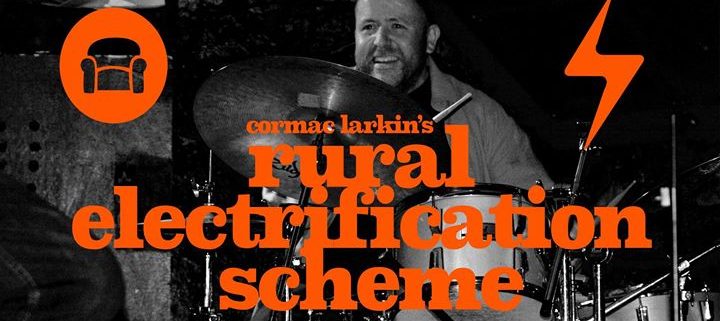 The Sofa Sessions presents
Cormac Larkin's Rural Electrification Scheme
Kilkenny-based drummer and Irish Times jazz critic leads a quartet of top-notch Dublin musicians playing late '60s Miles Davis, Weather Report, etc.
9pm, No CC (PM us to reserve a sofa)
Brendan Doyle – saxophones
Darragh William O'Ceallaigh – keboards
Barry Donohue – bass
Cormac Larkin – drums
Sometime around the late 1960s, around the time that top Irish jazz drummer Cormac Larkin was being born, Miles Davis began using electric instruments. It was a move that caused much anguish and soul searching in the jazz community, but once the genie was out of the bottle, there was no going back. Jazz-rock 'fusion' was born and groups like Weather Report, Return to Forever and the Mahavishnu Orchestra were soon more popular than jazz groups had ever been before.
This new group, led by Sofa Sessions curator and Irish Times jazz critic, Cormac Larkin, explores the first few years of that 'switch on', when Miles Davis' groups – featuring future stars like Herbie Hancock, Chick Corea, Joe Zawinul, John McLaughlin and Dave Holland – applied the rules of jazz to sounds and grooves more associated with R&B and funk.
Cormac Larkin has been a key figure on the Irish jazz scene since the late 1980s, when he helped to found both the Dublin Jazz Collective and non-profit promotions company the Improvised Music Company. As well as writing extensively about music, and directing music films and videos, he has led his own groups, including his Electric Be-bop Band, and he has played with most of the leading players on the Irish scene, including Tommy Halferty, Phil Ware and Mike Nielsen.
The group also features: Waterford-born saxophonist Brendan Doyle, one of the most highly regarded jazz musicians on the Irish scene who has played with Kenny Wheeler, Hugh Fraser and John Taylor; leading Dublin pianist and keyboardist Darragh O'Kelly, a key member of popular Dublin bands like OKO and Mixtapes from the Underground; and rising electric bassist Barry Donohue, a powerful new force on the Dublin scene with groups like Umbra and international quintet Satori.
http://www.billybyrnes.com/wp-content/uploads/2017/07/843_image_19621259_456290608070550_8152502393789983686_o.jpg
405
720
http://www.billybyrnes.com/wp-content/uploads/2017/05/main-logo.png
2017-08-17 17:40:58
2017-08-17 17:40:58
Rural Electrification Scheme