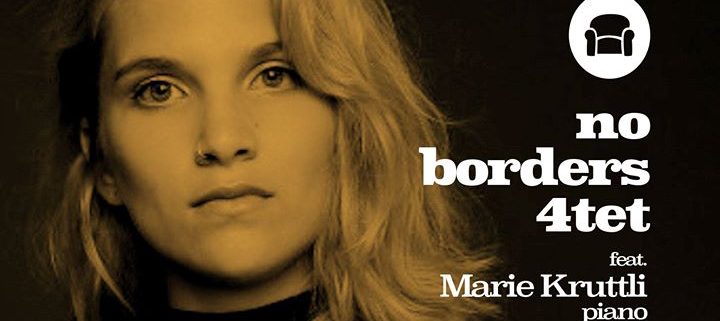 The Sofa Sessions presents
No Borders Quartet ft. Marie Kruttli
Exciting new international quartet featuring rising Berlin pianist
Marie Kruttli and leading Irish guitarist Chris Guilfole
9pm / No Cover Charge / Comfy Chairs
Marie Krüttli – Piano
Chris Guilfoyle – Guitar
Barry Donohue – Bass
Brendan Doherty – Drums
Chris Guilfoyle and Marie Kruttli met while both completing their masters in Luzern, Switzerland in 2013. Having played together in many ensembles in Switzerland, they have been looking to work together since Chris moved back to Dublin while Marie moved to Berlin. The No Borders quartet is a project which will see Marie come over to play with an explosive Irish rhythm section, bassist Barry Donohue and drummer Brendan Doherty while Chris will then travel to Berlin afterwards to play with a German rhythm section. The music will be a mixture of Marie's and Chris's original compositions. The No Borders Quartet is also a statement highlighting inclusivity and cross collaboration in a world that is becoming more and more insular.
Marie Kruttli was born in 1991. She started playing the piano at the age of 6. After spending years playing classical music, she discovered jazz as a genre that resonated more with her body and soul. Marie studied at the jazz music department of the University of Lausanne (HEMU) with Emil Spanyi, where she received her bachelor's in 2012. She then completed her master's studying with Hans Feigenwinter in Lucerne.
In 2010 Marie started her own trio to perform her original music. The trio released its debut album "Kartapousse" in 2015. During the same year Marie spent 3 months in New York City, where she was immersed in the local jazz scene. She recorded an EP with notable New York musicians which was released in October 2016. She won scholarships from the Friedlwald Foundation and from the Langnau Jazz Night piano competition. Marie and her trio also won the ZKB Jazz Preis 2016. The trio just released its new album "Running After The Sun". They perform actively in Europe. Over the past few years, Marie has been playing with Gerry Hemingway,Tim Berne, Michael Abene, Matthieu Michel, Dominik Burkhalter, Alban Darche, Dejan Terzic, Samuel Blaser and young upcoming NewYork musicians like Jonathan Barber, Devin Starks, Linda Briceno and Francesco Geminiani among many others
Chris is an up and coming guitar player on the Dublin jazz scene. He grew up in a musical family where his father Ronan Guilfoyle and uncle Conor Guilfoyle are household names in the Irish jazz scene. He has studied at Berklee College of Music – where he was awarded a scholarship from Fender Guitars, Newpark Music Centre and Hochschule Luzern, Switzerland. Chris was also selected to represent his college at the International Association of Schools of Jazz in The Netherlands in July 2010. In August 2011, Chris was accepted to study at Dave Liebman's Chromatic Harmony Workshop in Stroudsburg Pennsylvania, USA. Since graduating, Chris has been actively performing in the Dublin music scene as well as abroad. He has also played with internationally renowned artists Dave Liebman, Ralph Peterson, David Binney, Tom Rainey, Eric Ineke, Jussi Lehtonen, Nick Smart, Andrea Keller, Scott Tinkler and Jamie Oehlers.
Chris leads his own group, "Umbra" which has recieved critical acclaim including being called "One of the most exciting jazz ensembles in Europe" by All About Jazz. They have released two Cds, a self titled E.P in 2016 and their debut album "West" in 2017. Umbra has toured extensively throughout Ireland and have also played internationally including Paris, Brussels and Rotterdam.
The Sofa Sessions is (nearly) alwas free, but it is advisable to book a seat in advance. PM us on Facebook or email jester@hatch21.com to reserve a sofa.
http://www.billybyrnes.com/wp-content/uploads/2017/10/1063_image_22496026_500533970312880_1954528416995717002_o.jpg
405
720
http://www.billybyrnes.com/wp-content/uploads/2017/05/main-logo.png
2017-10-19 17:36:32
2017-10-19 17:36:32
No Border Quartet feat. Marie Kruttli