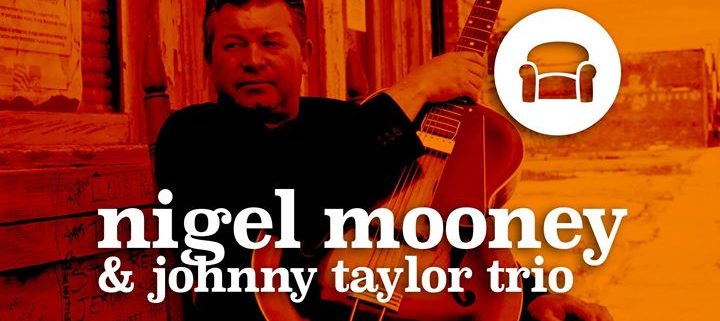 The Sofa Sessions presents
Nigel Mooney's 21st Century Christmas Blues
9pm / No Cover Charge
Nigel Mooney & the Johnny Taylor Trio
Nigel Mooney guitar/vocals
Johnny Taylor piano
Barry Donohue bass
Dominic Mullen drums
Nigel Mooney launches his new Christmas album, "Twenty-First Century Christmas Blues" with an Irish tour finishing with a special Christmas show at the Sofa Sessions. It is four years since Mooney's last album, "The Bohemian Mooney" was awarded Jazz Album of the year by The Irish Times and Mooney was hailed as Ireland's King of the Blues by the B.B.C.; this long-awaited recording of Christmas tunes will amply satiate the established Nigel Mooney devotees and undoubtedly win Mooney a festive feast of new fans this Christmas.
Not only a first for Mooney, but most likely a jazz and blues first for Ireland, "Twenty-First Century Christmas Blues" features four new Mooney compositions, including his You-Tube hit single/video "Twenty-First Century Santa Claus Blues", a poignant Christmas ballad "Let's Cancel Christmas for Jesus' Sake", a new hymn for the twenty-first century in "A Sperm in Albumen" and a modern Christmas re-working with "It Ain't Nobody's Christmas But Our Own". There are also some beautiful new versions of some of our favourite hymns and carols, as well as classic Christmas standards, some magic moments, some crackers and some cheese.
"Twenty-First Century Christmas Blues" is available to purchase in all good shops; the CD can also be purchased at www.nigelmooney.com and as a download/online. Musicians featured on the album include Nigel Mooney's current regular band: Johnny Taylor on piano, Barry Donohue on bass and Dominic Mullan on drums.
Also featured are – Tenor saxophone: Jean Toussaint (ex- Art Blakey's Jazz Messengers).
Guest Vocalist: Deborah Swiney (ex- Al Green). Guest Vocalists: Sallay Garnett (Loah) and Emma Garnett (Fehdah). Organ: Scott Flanigan (ex- Van Morrison).
Additional guitars by Ronnie Greer and Charlie Mooney.
Horn section by Brendan Doyle (saxophones) and Mike Barkley (trumpet).
"Mooney has pulled a cracker here – this is undoubtedly the finest Christmas collection since last Christmas" – Sal Nicholas, Christmas Times
"Twenty-First Century Christmas Blues" Launch Tour Dates:
Thursday 30th November, Purty Kitchen, Dun Laoghaire
Thursday 7th December, Arthur's, Dublin
Saturday 9th December Sin è, Dublin
Thursday 14th December, The Sofa Sessions at Billy Byrne's, Kilkenny
http://www.billybyrnes.com/wp-content/uploads/2017/11/1136_image_23826170_515768698789407_6795871069611776600_o.jpg
405
720
http://www.billybyrnes.com/wp-content/uploads/2017/05/main-logo.png
2017-12-14 17:44:44
2017-12-14 17:44:44
Nigel Mooney's 21st Century Christmas Blues