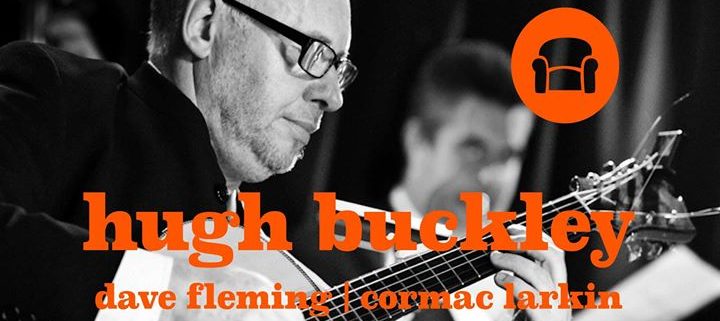 The Sofa Sessions presents
Hugh Buckley (guitar)
with Dave Fleming (bass)
and Cormac Larkin (drums)
Much-loved Dublin jazz guitarist with legendary bassist and Sofa Sessions resident drummer
9pm, No CC (PM us to reserve a sofa)
The Sofa Sessions is proud to present one of Ireland's finest guitarists, Hugh Buckley, with legendary bassist Dave Fleming and our resident drummer (and Irish Times jazz critic) Cormac Larkin.
About Hugh
Hugh Buckley is a Dublin born and based, self-taught guitarist, composer, arranger, educator and author. He has performed throughout Europe, the U.S., Argentina and China, working as a sideman and also leading his own groups.
He has performed with a wide array of internationally acclaimed artists including Sheryl Bailey, Louis Stewart, Brad Mehldau, Tim Ries Rolling Stones Project, Spike Robinson, Georgie Fame, Van Morrison, Lisa Stansfield, Ronnie Drew, to name a very few.
Besides featuring on many recordings as a sideman, Hugh has released three CDs as leader, "Yes Indeed" (1998) w/ James Williams, Peter Washington, Darren Beckett, "Spirit Level" (2001) (both recorded in New York) and "Sketches of Now" (2008). "The Day of the Duo" (2014) is a duo recording with renowned Scottish guitarist Nigel Clark. In March 2016, "Two Heads are Better Than One", a duo recording with vocalist Honor Heffernan was released.
In 2013, Hugh launched his highly acclaimed book "The Guitar Chord Doctor". The book deals with chord voicings and techniques for the contemporary guitarist.
Hugh is the founder and organizer and host of the extremely successful and acclaimed monthly event "The Dublin Guitar Night". The event showcases national and international guitar players across all genres. He is also coordinator of the "Guitar Gathering" at the Cork Jazz Festival.
Alongside his saxophone playing cousins Richie and Michael, he was the subject of an hour-long TV documentary "The Living Bridge – A Family Affair" which featured original music by all three musicians.
Hugh was producer, arranger and guitarist on the 2008 platinum selling CD release by the legendary folk artist Ronnie Drew, "The Last Session – A Fond Farewell".
More about Hugh at hughbuckleymusic.com
http://www.billybyrnes.com/wp-content/uploads/2017/07/839_image_19264314_456286951404249_943197919222185045_o.jpg
405
720
http://www.billybyrnes.com/wp-content/uploads/2017/05/main-logo.png
2017-08-10 17:38:10
2017-08-10 17:38:10
Hugh Buckley (guitar)