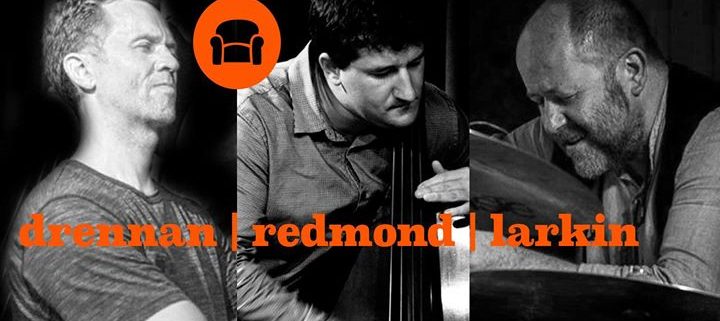 The Sofa Session presents
Drennan/Redmond/Larkin
9 pm / No Cover Charge / Comfy Chairs
Myles Drennan – piano
Dave Redmond – bass
Cormac Larkin – drums
Myles Drennan is one of Ireland's most respected jazz pianists, a naturally gifted player admired by his fellow musicians for his impeccable taste and deep knowledge of jazz piano history. He hails from a renowned musical dynasty, son of pioneering pianist Tony Drennan and brother of top session guitarist Anto Drennan. A talented drummer as well as a marvellously lyrical pianist, Myles has played with most of the leading jazz musicians of the contemporary Irish scene, and was, for many years, an important member of guitarist Louis Stewart's group.
Dave Redmond is widely regarded as one of the top two or three double bassists in Ireland. He is a long-standing member of several important Irish jazz groups, including the Tommy Halferty Trio and the Phil Ware Trio. He has recorded widely both nationally and internationally, and his debut recording – featuring renowned US pianist Bill Carrothers and saxophonist Jason Rigby – was released on the prestigious Fresh Sounds label in 2013.
Cormac Larkin has been active on the Irish jazz scene – as a player, a promoter, a film-maker and a journalist – since the late 1980s when he was co-founder of the Dublin Jazz Collective and the Improvised Music Company. Over the years, his groups have featured some of the leading players of the Dublin scene, including Michael Buckley, Brendan Doyle, Phil Ware, Justin Carroll and Mike Nielsen. He has made numerous films and music videos, and written extensively about music for publications at home and abroad. He is currently jazz critic for the Irish Times.
http://www.billybyrnes.com/wp-content/uploads/2017/08/918_image_20989035_477218359311108_3817652677451893985_o.jpg
405
720
http://www.billybyrnes.com/wp-content/uploads/2017/05/main-logo.png
2017-08-24 17:40:21
2017-08-24 17:40:21
Drennan Redmond Larkin