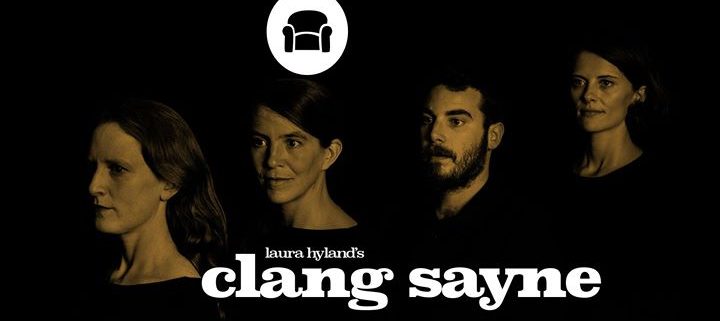 The Sofa Sessions presents
Laura Hyland's
CLANG SAYNE
"A singular, defiantly independent voice in the lineage of Joni Mitchell, Kate Bush, and Bjork."
The Irish Times
Thursday 28th September
9pm | No Cover Charge | Booking advised
Reserve a Sofa by PM or mail jester@hatch21.com
Clang Sayne was formed by Wexford-based Laura Hyland (voice / guitar) to fuse myriad influences spanning folk song, classical music and literature into a unique concert experience. Vocalist and guitarist Laura Hyland has a Sandy Denny-like classic folk voice and wraps it around timeless lyrics of nature, life, love and mortality as well as settings of texts by Dorothy Parker and other poets.
Hyland is joined by Judith Ring (voice / cello), Matthew Jacobson (drums / voice) and Carolyn Goodwin (bass clarinet / voice) in an approach to song-craft that has been described as "daring and unforgettable".
Irish Tour Dates:
The Santa Rita Concerts, Little Museum of Dublin – Sept 27, Wednesday
The Sofa Sessions at Billy Byrnes, Kilkenny – Sept 28, Thursday
Hard Working Class Heroes Festival, Dublin – Sept 29, Friday
Alice's Restaurant, Naas, Kildare – Sept 30, Saturday *
Jam Jar Series, Black Box, Belfast – Oct 5, Thursday **
Parlour Tea Rooms, Waterford – Oct 6, Friday
Happy Pear, Greystones – Oct 7, Saturday
Wexford Arts Centre – Oct 8, Sunday ***
*Laura Hyland, solo performance
** triple bill with Jennifer Walshe and Jenny Hval
*** performance is part of an exhibition by renowned visual artist, David Begley featuring prints he made responding to songs on The Round Soul of the World.
Full details at www.clangsayne.com/dates
What the press are saying about Clang Sayne:
"the hypnotic, hymnal nature of these songs fuels a desire to unravel their mysteries"
Lauren Murphy, Irish Times
"freestyle guile, wonky pop spirit and avant-everything experimental folk-jazz moxie"
Jim Carroll, Irish Times
"Hyland's soundscapes explore the rugged uplands criss-crossed by contemporary folk, avant-pop, improvisation and acoustic abstraction. A singular, defiantly independent voice in the lineage of Joni Mitchell, Kate Bush, and Bjork"
Cormac Larkin, Irish Times
"One of the most interesting new bands from Ireland in recent times"
No More Workhorse Blog
"Hyland and co. unravel a sonic landscape of real, oftentimes transcendental beauty. Sparse in nature yet refined in its poise and glow, the album is a consistently intriguing extended tale in experimental folk"
The Thin Air Magazine
"Exhillarating in its refusal to conform"
The Wire, Clive Bell
"An uncategoisable approach to songcraft"
Boomkat
http://www.billybyrnes.com/wp-content/uploads/2017/09/998_image_21762661_489195914780019_7646905648263616996_o.jpg
405
720
http://www.billybyrnes.com/wp-content/uploads/2017/05/main-logo.png
2017-09-28 17:37:52
2017-09-28 17:37:52
Clang Sayne